Click to book a call with me for dating and relationship advice (or anything)
 Introduction: Give Men Credit
Ladies, when's the last time you started the initial conversation with a random guy you were interested in?
Ladies, give me credit, goddammit! Approaching you is the hardest (and most rewarding) thing I've ever done in my life. At the very least you can acknowledge this and give me credit for trying. Men pursue women.
But, no. I often hear the opposite.
That's sexist! Machismo! Misogynist! Women pursue nowadays!
No. They do not. Let me be very clear: women do not pursue. I'm talking, specifically, about the initial interaction to get things started. And, I'm talking about real life.
Yes, you may have acted as a mild pursuer at one point in your life. It's even more likely you have a friend who pursues more actively. I'll address what this means about your friend below. In general (99%+ of time) men are pursuing and women are pursued.
These are my experiences. But, I believe that my experiences are true for the vast majority of men in all parts of our planet, all countries.
The Three Levels Of Men
For this article's purposes, there are three classes of men on our Earth.
Level One are the ugliest of men, physically speaking. The men who simply got unlucky with regards to physical genetics. They're just ugly. We all have our strong and weak attributes and for this class, attractiveness is a very weak attribute. 25% of men fall into this Level.
Level Two is where I'm at. We're more or less average looking. Some of us focus on our attractiveness and bring it up slightly, some don't. A woman looks at you and the majority of them are not stunned by immediate attraction, though some are. I'd say 70% of men belong to this category.
Level Three are the dudes who are very attractive. Every girl notices them. They have never had issues with attracting women. They're the right height, the right eye color, the right build, the right smile, the right complexion. Needless to say, you don't want to take dating advice from this guy. They make up about 5% of the male population.
Level One men have to pursue 100% of the time and with greater effort than the other Levels. They don't experience one-night stands. Women don't want that with them. A lot of pickup artists belong to this class. They have to manipulate women into feeling attraction. (note: I have nothing wrong with the pickup community. In fact, I consider myself part of it.).
They come in below the radar and discreetly build attraction. If this class of gentlemen went direct and told a woman she's beautiful, she would think he's creepy. It would not work. If the Level Three man did the exact same thing, it's much more likely she would be honored.
The Level Two man has to pursue the great majority of the time. Every now and then the woman will be attracted to him so greatly that he does not have to pursue to such an extent.
I need to make a point to clarification. When I'm referring to women in this article, I'm referring to physically above average looking women. Level One women will have to pursue sometimes unless they want to settle with someone about their attractiveness level or below. A lot of people settle because it's easier and comfortable if your partner isn't gorgeous. We're a jealous and possessive species.
The Level Three men still have to pursue most of the time, but the girls make it a lot easier on them. The Level Three man gets away with more. Where the girl may ghost a Level One or Two man for a similar action, she gives the Level Three man the benefit of the doubt. Women are more open to one-night stands, and they get pursued a bit more because almost all women are less attractive, comparatively, than them. (another note: one-night stands are not the goal, I'm only mentioning this as a contrast between the "Levels".)
Now, if you're a woman reading this and already thinking this is bullshit I challenge you to continue reading with an open mind. If not, please leave a comment. I'm eager to know your thoughts. Seriously.
Some women pursue, sure. Probably, you've pursued the Level Three man. Disclaimer: I'm really going to piss you off if I hadn't already. If you're thinking that either you or someone you know pursues, chances are that you are or that someone you know is not overly attractive (or trans). Attractive girls do not pursue men. Period. The more attractive she is, the less she pursues. Men pursue women.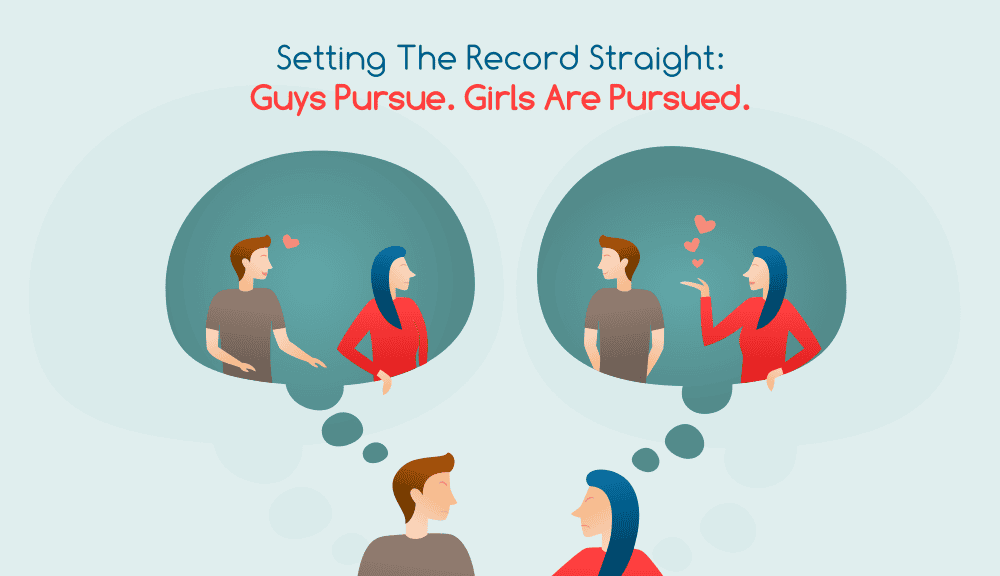 Women: "I never make the first move"
You'll hear this often from a woman: "I never make the first move." While that's relating to the actual first words spoken, any interaction with the same man can be considered a first until she has crossed the connection threshold, a time when she realizes that she enjoys his company. Sometimes, this is simply after the first sexual encounter.
I get it. Rejection is tough. It's incredibly tough and even more for women who are supposed to be doing the rejecting, at least at first. Throw on top of that societal norms and women just won't pursue or even be mistaken for pursuing.
Not only do women not pursue, but they'll ensure they are not confused for leading the interaction in any way.
Recently, I matched with a girl on Bumble. Bumble is a dating application where the women have to send the first message to get the conversation going, but it's optional. This match sent me a message and I responded. It was later in the evening and I'm not one to make plans with a girl the same day I match so I let the conversation trail off.
We lightly continued the conversation for the next few days until I noticed her location was far from where we match. Turns out she was leaving the next day. I don't know that. She did. She sent the first message. Maybe she just wanted someone to keep her occupied? I would have thought she'd give me a hint that she is leaving tomorrow. This is a dating app after all.
When I asked her about this, she told me that I didn't ask her to meet. Ok. That's correct. The point is she, like most women, are so far removed from making the first move that she was not going to tell me that it was her last night. It had to happen organically and by chance.
You know what you'll never ever hear from a man "I never make the first move." They make the second, third, fourth, fifth, six, and seventh moves, too.
Ladies, I think I'm not giving you enough credit. Sometimes you will make it easier for the guy to make the first move.
Once I was in Buenos Aires at a language exchange and I noticed a girl quite close to me. So close it would have been rude of me not to say hello. I viewed her as a friend and made it a point not to flirt with her. We exchanged contact information. It turned out she liked me and even tried to kiss me when we hung out a few days later. There are very specific reasons why she felt she had to make it easy for me to meet her and to make the first move to kiss me, as briefly discussed above.
If a Level Three man wrote this article, it'd sound a whole lot different! They'd say "man, I always heard men have to go after the women, but times have changed big time! Women really do pursue just as much as men nowadays!" For them, that's probably an accurate statement. I wouldn't know. Men pursue women.
A Story Of The Level Two Man
All I know is that for me, the majority of women I have had relationships with takes a massive amount of energy on my part, sometimes over months. And the vast, vast, vast majority of women I pursue are simply uninterested. The only reason why this isn't tremendously sad is that I believe it's common. Level Two men, can you confirm this in the comments?
This takes an enormous amount of mental fortitude. I'd say that 95% of women I pursue nothing ever happens. Said differently, one in twenty women who I'm interested in, are also interested in me.
Let me paint a clearer picture of what this looks like in my life. On a recent 7-day trip to Miami Beach, the following are all the interactions I had with women. Because I travel so often, I've learned how to start conversations and meet people, both men and women. For me, starting a conversation with a woman does not mean I want something physical. In fact, most of the time, it means friendship. However, they don't know that so the below interactions, from the woman's perspective, is that I'm interested in something physical with them.
I met two girls at the gym. I approached both. Both were friendly and we had brief conversations. I got the Instagram accounts of each. One said that because I was there only for a week she did not want to meet (fair enough). The other did not respond to my message.
I met a server at the restaurant during one lunch. She gave me her number after talking in Spanish about Colombia. We never met. In this case, I wasn't too interested and let the conversation die (note: she made zero attempts to pursue, but did respond to my messages).
I met a girl at the outdoor gym (which is awesome, by the way). She even suggested a meetup and asked for my Instagram only to not respond until two days later telling me about her boyfriend. This was extremely odd behavior. I tried to get clarification, but she ghosted me.
I used both Tinder and Bumble. I got matches and a few numbers. Some never responded to even my first text message. I did not meet up with any (again, only being here a week, I did not want to spend too much effort doing this and there was no pursuing from any of the girls).
I sent messages to 30 Instagram account. Five responded with at least one message, but no real interest and most conversations died as soon as they started. No meetups.
I met a woman on the beach who turned out to be a mom of three children. An interesting conversation, but nothing came of it.
I saw a gorgeous Latina on the street and attempted to chat with her, but she showed almost no interest and the interaction lasted for less than 10 seconds.
I approached an Asian girl on the street who didn't even bother to take out her earbuds and barely glanced my way.
I met a black girl with her two friends at the grocery store. She seemed genuinely interested and we exchanged numbers at the suggestion of her friend. She did not respond to my initial text message.
I met an Asian girl on the street walking her dog. She had a boyfriend.
I approached a cute girl with her mom at the grocery store. Short conversation, but uninterested.
My final night, I went salsa dancing and one of the girls was interested in me due to no direct action on my part. She left with me when I told her I was going home, but physically I was not interested and we went our separate ways.
This was all in one week. You can see how much effort is expended to find and meet a woman who is interested.
With this depiction, I wanted to demonstrate the amount of dedication, time, and energy required for me, your Level Two man, to meet a woman who I view as equal to or above my own physical attractiveness. Men pursue women.
Men Pursue Women: Instagram
I used to only meet women through Tinder with the occasional exception at a bar. Nowadays, I use Tinder, but also Instagram and I meet women during the normal process of my life (referred to as "daygame").
Let's take Instagram, for example. Of 100 messages I send out, depending on the country, I may get responses from 10-30 of them. But the conversation ends there for all but one or two, if I don't continually pursue. The vast majority of the time, it does not work out. But when it does, it wouldn't be uncommon to have a conversation with her for 3 months before we see each other in real life.
That surprises me…kind of. On Instagram (as opposed to Tinder or daygame) the girl can see a lot about me.
In addition to how I look, she can see that I'm an author, a business owner, my hobbies, the places I've visited, and my friends.
I would argue that many aspects of my life are above average. I'm fortunate. I travel often. I run a successful business that allows me to do fun things like skydive in Dubai or Scubadive in Australia. It would be my assumption that this would allow for a bit of interest from most women. I'm sure it helps. But the thing that really matters is my physical attractiveness.
There's a LOT of assumptions in this article. Tell me, where did I go wrong? Do men pursue women? I'm very eager to read your reactions.
The next article in this series is titled "Are Women Good At Deciding Who To Date?"