This blog post about Medellin nightlife is sponsored by The Belmonte Penthouse, a 4-bedroom, 4-bathroom luxury experience penthouse in Medellin. It comes with a jacuzzi, two integrated sound systems, dimmable and mood lighting throughout.

Click to book a call with me if you'd like to discuss Medellin Real Estate
Introduction: Medellin Nightlife
Disclaimer: Ok. Ok. If you even remotely know me, you're probably calling BS right about now. What do I know about nightlife? Anywhere. I'm not a night owl.
I do my activities during the day. When the clock reaches 7pm, I'm probably headed home or at the grocery store buying ingredients for dinner. If I'm fortunate, sharing that dinner and a cuddle with a cute girl and a documentary or scary movie. Dreaming by eleven..
They call me Señor Anciano in Colombia!
But, that's not what this is about. And I did this for you. I made a left turn the last couple of months into the abyss of the Medellin nightlife scene and actually went out based on a bunch of recommendations from you (thank you! Send more in comments).
But, alas, I'm only human, and..
There are a few recommendations below that I have not been to and would love your opinion if you have. Nevertheless, I've added them because I figure if you're new to Medellin, like I was 8 years ago, you'd rather start with a recommendation from someone familiar with the city than not.
Let's rock 'n' roll party boys and girls..
Café Noir – Lounge
The only business to make two "Medellin Best" lists (see best cafés in Medellin).
This café by day / lounge by night has exquisite coffee, food, ambiance, drinks, and staff. It's great for a date or with a group of friends.
Be sure to check the "garden" in the back with a soothing river sound, fire pits and comfy egg chairs.
You can even order a coffee with gold. Actual gold.
You might be wondering right about now if you can ingest gold? Yes. Is it good for you? No effect. It's only something you do when you want to be frivolous with your money or show off to random people on Instagram heh.
La Chula – Famous Nightclub
I heard about this well-known Medellin nightclub three times in a single week. Well timed because I was already in the midst of writing this article.
On that third conversation, I was in a new café in Parque Lleras talking with a stranger who mentioned that he's going on Saturday and invited me.
I say I'm in.
Apparently, it's super popular in this city. It was described as the best nightclub in Medellin, by locals and foreigners alike.
I've been to Medellin numerous times over the past few years and never heard about it before this week. I also don't go out often so it probably makes sense.
But this night I did.
Long story short, the night had a bit of everything. Oh, alcohol. I'll save the personal stories for later and share a bit about what you can expect from La Chula.
When you arrive, there are three different rooms with different styles. Upstairs is the restaurant and the best option as they play a variety of music and has the biggest space. You want to make a reservation.
I went to the basement room full of reggaetón all night. The room to the left, I'm not sure. If you go to La Chula and find out what's inside, please post a comment here.
From The Belmonte Penthouse, the ultimate pregame spot, La Chula is a 10-minute drive into the hills.
Vintrash – Famous Dance Club
A staple of Medellin nightlife and only a 5-minute walk from The Belmonte Penthouse on the famous walking street of Provenza.
Four levels including a basement. Relaxed vibe. Sometimes there is a line and/or cover charge if you go too late. And, it's almost always crowded after 10pm.
Are you enjoying my blog post about Medellin nightlife? Please let me know with a comment. Thank you!
El Social Tienda Mixta #2 – Local Bar
If you want to experience typical Colombian nightlife, go here.
What is typical Colombian nightlife? You sit in plastic chairs, listen to loud music, try to yell…ahem…talk to the person sitting immediately on your face, and Aguadiente.
Aguadiente or "guarro" is the well-known, cheap Colombian hard alcohol choice. The taste is peppermint or licorice. But be warned, there are only very few and specific instances when a Colombian will actually drink it.
Recently my friend visited me and brought an entire bottle of gaurro to a calm house party. Exactly zero people drank it and we forgot to bring it home.
There's a lesson in there.
There are two El Social Tienda Mixta. My recommended location is the more hidden, slightly further, and less busy, but still close to the action option in the hidden part of Provenza across both Calle 10 (the most well-known street passing through Parque Lleras) and Calle 10A.
From The Belmonte Penthouse, you'll reach your destination in approximately 8 minutes.
Dance Free – Dance School + Club
If you're trying to dance some Latin style music like salsa or bachata without being Latino, go here. It's actually a famous dance school, but turns into a dance club at night, usually after a group class at 8pm.
The best part of this dance club is that everyone going there knows it's a gringo bar so the level of dance is equivalent.
I'm sure there are Colombians which avoid this bar at all costs for the same reasons!
They also host language exchanges on some nights during the week and being a famous option, always have a good turnout.
La Octava Bar – Dive Bar
Ball pit. Enough said.
This is a dive bar, young crowd, loud music, cheap drinks. Outdoor patio and numerous different indoor spaces. The ball pit is downstairs.
Go during the day for unobstructed, well-lit photos jumping into the ball pit.
Social Club Academia – Latin Dance Club
This is like Dance Free, just a bit further away, and comes highly recommended from my friend who chose to live nearby this place in Envigado solely to go here often.
Jimar Factory – Pool Hall
If you're anything like me, you're more into the low-key nightlife activities.
How about some billiards? This place is a gem and hidden in plain sight.
Upstairs has a giant pool hall complete with 10+ tables and a full bar. It's never crowded.
On the bottom floor, open to the street there is a selection of nice cafes, restos, and bars.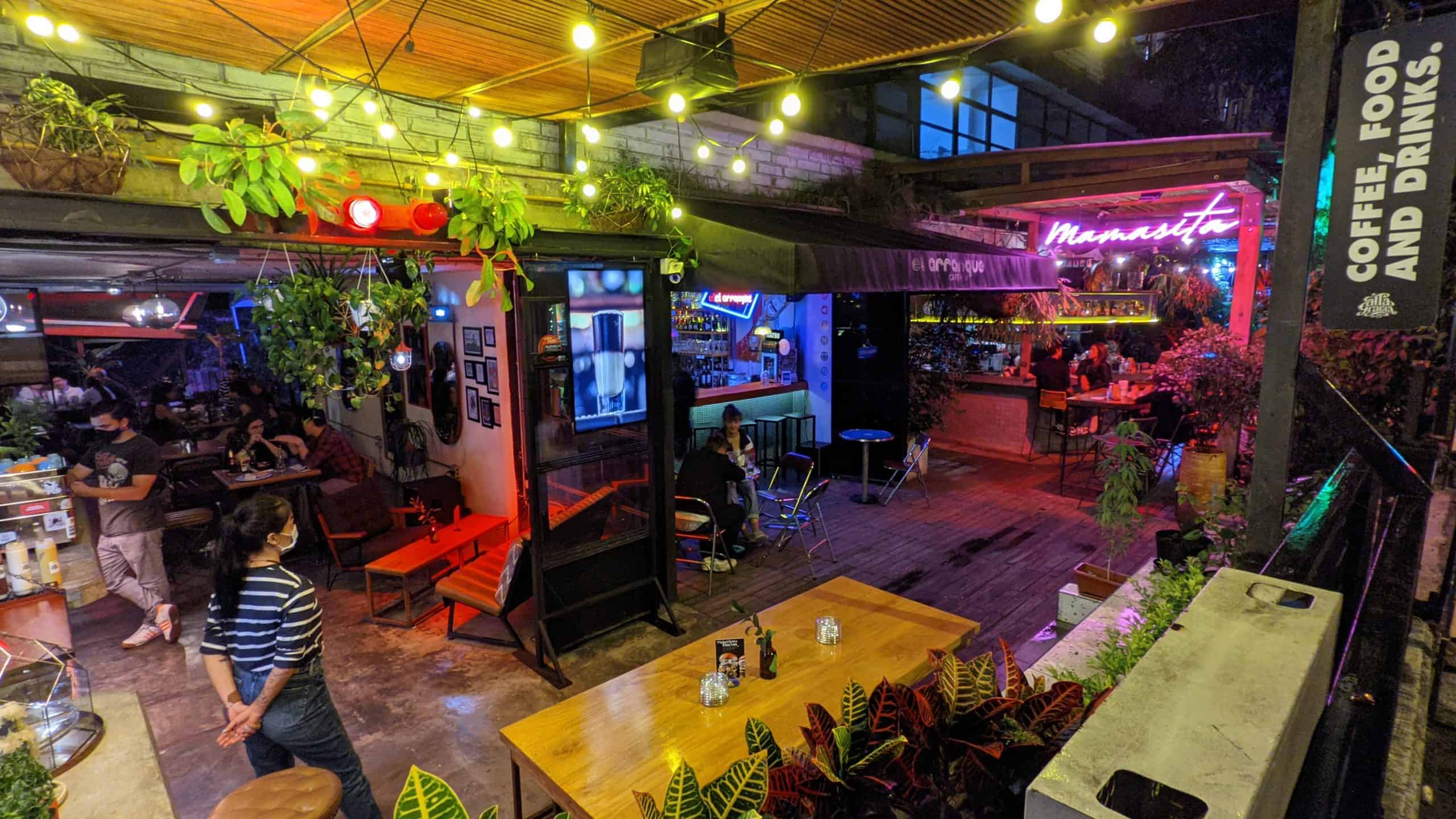 Urvino Vinos – Wine Bar
Basically the only wine bar in Medellin. It's small, but don't worry because there are always available seats.
It's in a super cool neighborhood, possibly my favorite, called Manila. Friendly service staff. They will order local food delivery for you.
Black Dog Club (Club Perro Negro)
This one comes as a recommendation to "What is your ONE favorite bar or nightclub in Medellin?" posted to the dannybooboo Instagram.
I tried to go in one time just to see but wasn't permitted and couldn't see shit from the street. It's an underground nightclub.
If you go there, please report back. What makes it to special?
Have a suggestion for my blog post about Medellin nightlife? Let me know in the comments.
Panorama – Rooftop Lounge
There are two locations, one in Provenza just a short walk from The Belmonte Penthouse, and the other is in Laureles, the second best and more local neighborhood of Medellin.
Expect a chill lounge that feels cozy and trendy accompanied by costly drinks.
Envy – Highest Rooftop Bar In Lleras
I don't like Envy Rooftop. There's a bunch of prostitutes, the hotel is a literal brothel, the seating is dingy and dirty, and they put up this plexiglass covering around the entire view, for me, running the only reason that someone might go there.
Plus, it's expensive.
There's a pool you don't go in. There's an upstairs part you can't go to. You literally sit on uncomfortable seats and sip expensive drinks.
I suppose it's good for people watching as it's usually where gringos go as first-timers to Medellin, oftentimes losing control of themselves and acting like idiots.
La Oculta de Belisario – Hidden Club
I went here last night and only upon leaving the cavernous space realized the extent of this place and where the hidden club was located. Let me try to describe it in words for you, but you'll have to check out this space.
Of course, you can sit outside or on the ground level. But you can also go up the stairs to the first floor.
In the back-right corner of this room is a door where there is a "secret" nightclub. This might be La Oculta?
You can also stay on this level for a drink in the front part overlooking the walking street. But let's not do that, let's go up another flight of stairs to the second level.
It's really more of the same as the first level, more of a lounge with a patio section overlooking the walking street.
But then there's also another half-flight of stairs leading into what seems to be a gigantic room that may be La Oculta?
Anyways, it's a nightlife venue with numerous different options going on.
Parque Poblado – Outdoor Park
This is just a 5-minute walk from Parque Lleras, but with a totally different vibe.
It's more local with young Colombians sitting on the recently landscaped park drinking and generally enjoying life.
It's in probably my favorite neighborhood of Poblado called Astorga.
Right next to this park is the "Provenza of Astorga" with a one-block walking street full of many restaurants and bars. It's more low-key than Provenza.
Wrap-Up: Medellin Nightlife
That does it! The above Medellin nightlife recommendations should fill out your schedule for about a week long trip.
But, remember, while Medellin is nowhere near as unsafe as the mass media would have you believe, simply being out at night is a higher risk activity.
Add to that you don't speak the location language, know the local culture, and are stereotyped as someone with money, things could get tricky.
If you are staying in The Belmonte Penthouse, I provide a personal, local contact who will accompany you going out at night and take care of you. His name is Santiago. This is a paid service, but it's cheap and worth the expense for first-time visitors to Medellin.