I really like Playa del Carmen.
It ranks as my third all-time favorite city scoring a weighted 8.4 out of 10 behind Almaty, Kazakhstan (8.8) and Chiang Mai (8.6).
RELATED: I've recorded a separate video on the dannybooboo YouTube channel to teach my process in ranking cities and to find where in the world is best for you before you go.
I've lived in 70+ cities for at least a week over the past five years so it's not like it ranks third of five cities. It's saying something!
Though to be honest, prior to arrival, I wasn't so sure how much I'd like it due to the amount of tourism. I generally find places that rely so heavily on tourism to be low energy (everyone is just selling drugs, women, and tours) and too much of a party vibe. I'm not a fan of Bali.
But, as I always do, I keep a totally open mind for three weeks – sufficient time to make a judgment. I've passed my third week here, and am now ready to say that I love Playa del Carmen (this link will take you to a sister page full of notes, observations, and fun facts. I write these for all cities I spend more than a week in.)
There are SO many things to do here in Playa del Carmen it's crazy. Last week, I met a girl at an expat meetup who put together a list of all the different ways to find events and connect with people.
This guide to Playa del Carmen is the culmination of 5-days and about 30 hours of research. I dug through countless blogs to pick out the very best so you don't have to go through all the generic bullshit and useless blogs posting solely for content to sell things. This blog doesn't sell shit besides a great time.
I searched things like:
Local tips
Overrated and underrated attractions
Free things to do in Playa del Carmen
Hidden gem, unique, and authentic activities
Daytrips
Playa del Carmen things to do at night
Solo travel, couple travel, and female travel tips
I'm ready to reveal my list of the coolest and most unique things to do here in Playa del Carmen. You will find mostly unique things on this list.
For some reason, I'm not really so interested in museums and historical sites. If you're looking for that, you'll have to look elsewhere…..but, I hope after you read mine first!
Punta Esmeralda Beach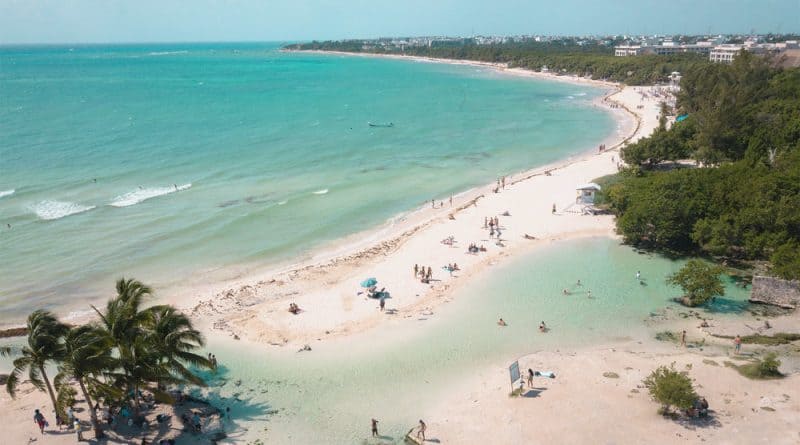 Ok. So, this isn't really a hidden beach, though when I first found it, I thought it was.
On one of the first days here in playa, a robber broke into my front porch and stole my 2-year old shoes and band new sandals. He left me with my heavily used pair of sandals with a bottom part that was just barely hanging on. It became a priority to get them fixed.
Google told me there was a shoe repair shop on Calle 70. I was living on Calle 26. That's about a 15-minute ride north and, at the time, unexplored territory. I was down. Let's go!
It was really an uneventful ride, Playa del Carmen looks quite homogenous, but I found the rapir shop after only asking one person.
Sandals repaired successfully and I decided to return the bike at the station on Calle 70 nearest the beach.
RELATED: I recommend you subscribe to a yearly membership of Biciplaya. It's only about $12 and makes travel within the main part of the city much smoother.
My idea was to walk back on 5th avenue, the main avenue of Playa del Carmen, towards my home. But then I saw this long, narrow, desolate path I could only assume led to the beach.
I wondered 'did I find a hidden beach?' After all, at Calle 70, it's quite deserted. While 5th avenue is vibrant in the main area, it starts to quiet down around Calle 40 and I was even further than that.
This first beach I found on Calle 70 is called Playa Avenida Colosio and I recommend you check it out for a quieter beach just north of the main beaches. You'll find a few volleyball courts and even some chairs for rent. But, it's much more tranquil.
I got a tip from the guy selling the chairs that more north there is another beach with a cenote! I'm down. Let's go!
Not do fast dannybooboo..
It took me about a week to convince someone to go with me, but when I arrived, I decided Playa Punta Esmeralda is my favorite beach.
The beach is wider, the sand is whiter. It's got two smaller palm tree areas, but also a large section with only palm trees. While the beach is definitely not a secret, there are no tourists and it's so large that everyone is spread out. There is, indeed, a cenote, but don't get your hopes up. Both times I was it's absolutely packed with children. And, around the corner, not visible from the main part, you're going to find a small open-air restaurant with a bunch of swings for use.
Play With Dogs
There are a few pet shelters here which allow visitors to come and play with, feed, or walk their dogs. Some have more structured schedules and times, and others allow dropins whenever. Here are the three that I've found which allow for visitors.
Coco Beach Gym
Outdoor fully equipped gym on the main beach? Yes. Double your workout efficiency with some new Instagram photos at the same time. Just be aware it's outside and part of it is directly in the sun. Here in Playa del Carmen, it can feel like the sun is literally a foot above your head all day long.
Temazcal, A Sweat Lodge
Think sauna, except Mexican style and lower heat. You can choose to do a ceremony including a Temazcal or simply go into one and relax. They can be found easily on Google by searching 'Temazcal' or in Spas. For a higher-end experience, go to Wayak Spa.
You are reading my guide to all the things to do in Playa del Camen. Please show your support by liking this page.
The Best Digital Nomad Cafe's In Playa Del Carmen
If you're a remote worker, you'll be glad to know that Playa del Carmen has a good coffee shop scene.
As I like to spend my afternoons 'café hoping' with a caffeine high, by now I'm quite familiar with the situation here.
There's a nice mix of popular digital nomad café's, indoor and outdoor café's, vegan cafes, and beach cafes.
Here is my list of the better coffee shops in Playa del Carmen:
Basic Foodie: This one is just around the corner from where I live and is, strangely, connected to an interior design shop. By default, they bring a glass of water with all orders! Indoor/outdoor layout, spacious. Also seems to get more of a breeze than the others. The only downside is some of the indoor seats don't have backrests which is a must for me.
MiDogo Café: I found this through one of my Spanish teachers. I really like it. Indoor/outdoor space, but the small indoor space gets full sometimes. A/C inside. Dog-friendly, but I've never actually seen one here.
Marley Coffee: this is a well-known coffee shop, good interior design, fast internet, some standing desk space, indoors but without A/C and with leather couches. It feels like a Temazcal sometimes.
Wow Café Art & Boutique: this one is unique and neat, a bit of a hidden gem, but it closes at 3pm. Nice covered outdoor space with a friendly French owner.
Aéreo Café Bar: Another hidden gem. It's a little past Calle 1 Sur towards the south end of the main part of Playa del Carmen. It's indoor with A/C, comfy seating, fast wifi, and won't be busy. Only problem is the tiny round tables.
Logia Café: This one might be new to Playa del Carmen. Indoors, quiet, serves food, some standing tables. Note it's difficult to find without any clear sign from the street, but the location on Google is correct.
Ressio Cafe & Cycling People: Also near my house, this one is neat and my friend gives it the best coffee in Playa award. I agree. Don't miss out on the entire back patio through the narrow walkway on the right side of the bar. Only outdoor seating.
Mercado 30 – Bajo Café: Another popular café, it's always busy, but plenty of seating and attentive staff. You will make friends here as you'll see the same people over and over. Pet friendly. It can feel busy sometimes.
Of course, there are many Starbucks that always function as good work environments with A/C, comfy chairs, strong coffee, and wifi. There are two local chain coffee shops: Choux Choux Cafe and Ah Cacao Chocolate Café.
Nightlife In Playa Del Carmen
If you're a partier, I have good news. You'll find plenty of parties and after-parties in Playa del Carmen. However, I'm not an expert on the subject and this section will be focus on drinking-optional evening activities.
First up is English comedy! This is brand new and they've only done a few shows, but please check their Instagram @PlayadelComedy.
If you're a dancer, you'll be able to find plenty of it. The link to the list of WhatsApp groups in the intro has one specifically for dancers. Zenzi is the salsa spot in town, going strong all nights of the weeks. You can get informal lessons if you go early around 8pm.
Every Tuesday, starting at 6:30pm Mexican time (ie don't worry if you show up late), you can go to Laura's Quiz Night at Buzo's for trivia. There are many events here that start and stop, but this one seems to be pretty strong, and consistent every week, for many weeks running.
Ladies, every night in Playa del Carmen is ladies' night. I'm not sure if that's a good or a bad thing, but it is definitely a thing here. The nights change every so often so just do a little search or ask one of the friendly Mexican's on 5th.
Ok. I know some of you reading this are actually looking for good old fashion parties and here's the best I'll do. At Izsla Hostel, there is a rooftop. On this rooftop, there is a party every night of the week with Thursday, Friday, and Saturday being the most popular. And, on Sunday, it's an all-day and night party on the rooftop.
Lastly, El Cine Club does open-air movies once per week. I think the location might change, but the last time I saw it was at Parque La Ceiba. It is free, donations are welcomed.
Instagrammable Playa del Carmen
Obviously, nature makes for great Instagrammable moments, and we know Playa del Carmen and the entire Yucatan peninsula is full of it. However, I've narrowed this list down to just two for extra special photos.
First, Cenote Suytun, the definition of an Instagrammable photo. It's a 2-hour drive from Playa del Carmen. However, it's nearby the city Valladolid which I is pretty cool to visit for a few hours. I recommend starting at the main park.
The second Instagrammable photo, 3 hours drive from Playa del Camren, is Las Coloradas, otherwise known as The Pink Lake. I still haven't done this yet. Send me a message through the Guest Book tab if you want to go. Río Lagartos, nextdoor, is full of pink flamingoes, espeically in April.
Most Unique Restaurants Of Playa Del Carmen
I'm not a foodie so the only time I really ever get excited about a restaurant is because of its uniqueness. The exception is seafood, always down for seafood.
For example, La Pirata is a fresh seafood restaurant. They buy fresh fish in the morning and stay open until they sell out, usually around 4pm.
El Gran Taco sells stew-filled tacos. I found out about this one while writing my article on the best taqueria in Playa del Carmen. Speaking of tacos, El Ñiro is the most famous taqueria and serves the largest variety of meats: eye, head, tongue, cheek, intestines, plus all the regulars.
For a more local experience, check out Punto 115. It's about a 15-minute drive from the main area and hosts a plethora of bars and restaurants away from the tourist zone.
Look up Rauxa Dinner Show. It's temporarily closed right now, but apparently, it's a badass burlesque-style show with dinner. It requires some planning as it's about halfway to Tulum, at 30 minutes away.
The Xoximilco Dinner Cruise seems cool. You float with 20 other people down a river while enjoying dinner and entertainment. It seems like more of a date idea. So, I'll have to first find a date. If you're a thin, attractive, healthy woman reading this, please drop me a note.
The Best Day Trips From Playa Del Carmen
Playa del Carmen has the most day or weekend trips of any place I've ever been to on the 6 continents that I know.
The common ones, which you will find easily online and are better dedicated an entire guide are Tulum, Cancún, Isla Mujeres, Holbox, Cozumel, and the thousands of Cenotes.
However, I want to take this opportunity to call out one particularly special day trip. I LOVE anything that involves interacting with animals. And at Akumal beach, you can literally swim with giant sea turtles.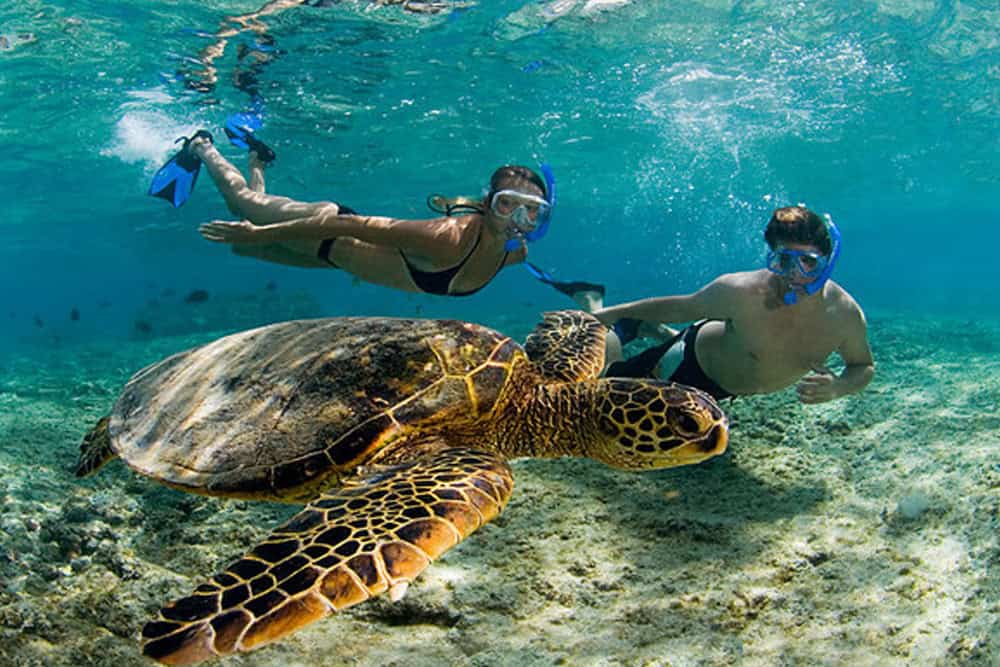 I can't pretend this is a hidden gem of Playa del Carmen, but it's so cool! To top it off also visit Yal Ku Lagoon for snorkeling and the La Buena Vida beach club for food, relaxing, and a nice beach.
Romantic Things To Do In Playa Del Carmen
Playa del Carmen is a tourist hot spot right now so if you're able to meet a young lady passing through for a few days to a few weeks, good for you. Here are three ideas to wow them.
First up is a romantic evening to include dinner and a Cirque du Soleil show called Joya. It ain't cheap starting at $92 per ticket, but imagine the dim lights, a sensory overload experience, all while holding the hand of that special someone?
You could opt for the $250 VIP treatment which includes private pre-show entertainment and unlimited champagne. Alcohol pretty much makes anything more romantic.
Or, you could go to the romantic beachside restaurant called Fuego. Sitting on the beach next to your lovebug, moonlight soaked ocean, with smooth waves crashing at your toes. You'll have to order the champagne separately here.
Finally, we have a dimly lit romantic restaurant in a cave. It's called Alux and this will double as an Instagram photo. Be sure to make reservations at least a day in advance, don't take your chances.
Thank you for reading my Playa del Carmen guide!
My Favorite Street: Calle 38
If you've been to Playa del Carmen and don't know this street, it's evident right away why it's the best. If you're new to Playa del Carmen, you'll understand as soon as you arrive why this street is unique.
Most of the city is very homogenous, with crappy, plain buildings and crappy architecture, and limited trees around. Even their parts are rather depressing.
However, this street is like a jungle in the city with great vibes, canopy trees, running water, and rivers and it all leads straight to one of the better beaches.
If all of Playa del Carmen looked like this, it would upgrade the city a lot, especially because of the heat. This jungle vibe reminds me of Medellin, Colombia.
Here you will find higher-end restaurants, cafes, some low-key bars, ice cream shops, with a few apartments or resorts.
Casino
I saved this one for last because I might be the only gambling non-degenerate who genuinely enjoys the mind games of trying to beat the house.
I'm usually going solo and only accompanies if I drag my friends in.
Playa del Carmen is home to not one, but three legit casinos. A legit casino is one that uses an actual deck of cards rather than a machine, with a laid-back atmosphere, and great rules at the Blackjack table.
Casinos of Las Vegas, if you're reading this, I know I'm highly likely to lose money. I think of it as my entrance fee to an amusement park. Can you at least make me believe that there's some chance of getting lucky? Ease up on the rules, homies.
Other Useful Tips + Recommendations
Mis Tres Angelitos is the best laundromat in Playa del Carmen. I tested four prior to this. It's 112MXN ($5) for 5kg (12lbs) of clothes for express service of 4 hours. They also fold well, a missing skill from other laundromats in this city.
Triccos Barberia – ask for Topo. Maybe the best beard trim I've ever received in the 80+ cities I've paid for this service.
Los Paradise – brand new taco shop and my overall winner! They have six salsas, delicious tortillas, and finely chopped meat. The only improvement I'd ask for is more meat options.
If you have any other specific recommendations to add to my Playa del Carmen guide, please post a comment below.
Conclusion
After five months in cloud-filled Colombia, I left earlier than planned and came to basically the only country with totally open borders. I'd already been to Mexico many times and felt neutral about it. After all, I'm basically from the northern part of Mexico: California.
I chose Playa del Carmen because my buddy was already here, posting daily sun-filled Instagram stories at the beach. And, am I glad I came!
This place is not only already awesome, but it actually has a lot of future potential.
I plan to be here for some time longer and to make it a permanent city that I'll continue to visit. Send me a message or comment if you want to meet up!
If you have any things to add to my Playa del Carmen guide, please post a comment below.